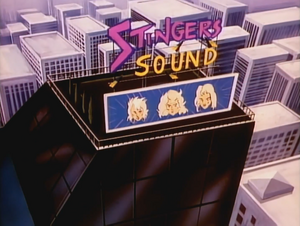 Stingers Sound is the name of the record company that both The Stingers and The Misfits are signed to.
Overview
When the new sensation band, The Stingers, arrived to L.A., Starlight Music's CEO, Jerrica Benton, was very interested in getting them to sign for her record company. However, rival executive, Eric Raymond, from Misfits Music, had the same idea and this turned into a dispute between the two of them to see who could make The Stingers sign for their respective company.
Jerrica offered them a record deal with Starlight Music, but Eric, determined to get them at all costs, sold half of his own label, Misfits Music, which was originally owned by Harvey Gabor. Jerrica then stepped back from the offer and that's when Riot decided to close the deal with Raymond, which ultimately resulted in Misfits Music being rebranded as "Stingers Sound".
The two major music bands signed to Stingers Sound are The Stingers and The Misfits, the latter as they were already signed to the original label. Surprisingly, Pizzazz didn't display any opposition to the idea, although this was probably due to her interest in Riot.
Once The Stingers got control of Stingers Sound, Eric Raymond was rarely seen.
Facilities
Stingers Sound has many of the same interior departments and offices that were in place before the arrival of The Stingers. In addition, it had new offices installed. These include:
Eric Raymond's office
Riot's office (the same as Eric's but with small differences)
Riot's second office (with another desk, different view and a fireplace)
Pizzazz's office (with a pool table and cool furniture)
Recording studios (at least six)
Conference room
Runway and stage
Garden and park on the roof
Parking garage
Gallery
See also
Community content is available under
CC-BY-SA
unless otherwise noted.