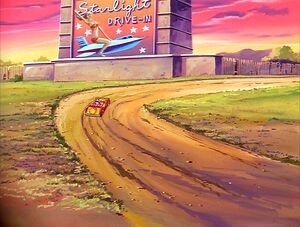 The Starlight Drive-In is a location in the Jem animated series. It is an abandoned drive-in that was property of the late Emmett Benton and also the place where he completed the construction of Synergy.
Overview
The Starlight Drive-In was one of Emmett Benton's many properties. While designing and building a new supercomputer capable of linking music with real life-like holographic projections, he secretly moved all of his work to this place in order to have some peace and privacy, conditions he simply could not procure himself due to his daily business affairs at Starlight Music. It is unclear if Emmett bought the drive-in solely with the purpose to keep on working on this project or if it was already one of his many properties and just decided to move all of his advances there.
The now completed supercomputer, along with the Rockin' Roadster, musical instruments and diverse clothing, remained stored at the drive-in after Emmett's death. However, through his will, he gave instructions to his two surviving daughters, Jerrica and Kimber, to go there and search for them, being this both his heritage and a last present for them. The computer manifested to them by the name of "Synergy" and the Benton sisters decided she would be more secure if they took her back with them to the Starlight Mansion.
The drive-in remained in property of the Bentons throughout the rest of the series, although the place was never rebuilt or put into operation again and just remained as real estate.
Facilities
The Starlight Drive-In dwells in what appears to be a secluded place in the outskirts of the city, near the woods. No buildings can be seen in its vicinity and the road that leads to it is not even paved. A giant signboard with the picture of a bikini-clad girl riding a jet and the words "Starlight Drive-In", used to welcome all of its visitors. The signboard is actually placed behind the giant screen where the movies were projected. Inside the parking lot there is a two-story restaurant with at least two signboards that read "Burgers" on top of it (one on its front and another on its right side). This restaurant connects to the street, providing the main access.
Gallery
Trivia
Community content is available under
CC-BY-SA
unless otherwise noted.