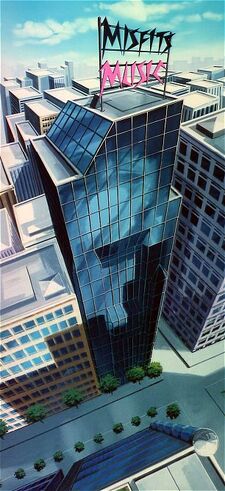 Misfits Music was an American record company formerly owned by multimillionaire businessman, Harvey Gabor. He created this company to support his daughter Pizzazz's music career after she and her band, The Misfits, were left without a record company after losing their contract with Starlight Music.
History
After The Battle of the Bands, The Misfits lost their recording contract with Starlight Music and Eric Raymond lost his job. Pizzazz asked her father, Harvey Gabor, to buy her a record company, which he did in the episode The Music Awards (Part 1); then Pizzazz put Eric in charge.
At first, the record company was owned by Mr. Gabor, but at some point Eric sold everything he owned to purchase it and eventually he offered half of the company to The Stingers to lure them into signing with Misfits Music instead of Starlight Music. The company was then rebranded as Stingers Sound, although The Misfits remained signed to the company.
Facilities
On top of the building there is a little park where the company can host parties to celebrate the success of their stars. The interior of the large building includes an office for Eric (which was later taken over by Riot), an office for Pizzazz, which includes lots of gold records and a pool table, and several recording studios.
See also
Community content is available under
CC-BY-SA
unless otherwise noted.