Kieu Chinh

Kieu Chinh's portrait by Martin O'Carolan

Full Name

Kieu Chinh

Born

Home

United States

Gender

Ethnicity

Asian

Died

(date unknown)

Family

Martin O'Carolan (husband)
Ba Nee O'Carolan (daughter)
Kieu Chinh is a mentioned character in the Jem animated series. She was Ba Nee's mother.
Biography
Kieu Chinh lived in a small village located in
An Lộc
during the Vietnam War. After a battle that took place in a nearby jungle, she found an injured American soldier and brought him to her house.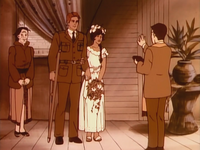 Kieu took care of this man and treated his wounds. When the soldier, named
Martin
, finally regained consciousness, an evident special bond emerged between both. Soon after, they fell in love with each other and decided to get married. Happiness was not going to last for the young couple, tough. One day, the village was under attack. Martin and Kieu barely made it out alive from her house before it was destroyed. He managed to get Kieu, now pregnant of his baby, on a carriage and send her somewhere safe, promising that no matter what, he would find her. As soon as the carriage started to move, though, a group of Viet Cong soldiers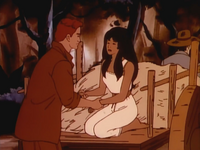 caught up with him and took him captive. Martin was never able to reunite with his family, as he became an amnesiac from a concussion he received in the head when he was captured.
Sometime later, Kieu gave birth to Martin's daughter, who she named Ba Nee. Unfortunately, Kieu's health started to deteriorate a few years later and soon she was facing her impending death. However, she was able to tell Ba Nee to look for her father, an American ex-soldier who had red hair.
Kieu finally passed away and Ba Nee was eventually adopted by the Bentons, thinking every day about what her mother told her and wondering if her father was still alive somewhere. Ba Nee and Martin would finally be reunited years later.
Gallery
Trivia
Community content is available under
CC-BY-SA
unless otherwise noted.